Sodexo can:
Supply all resources, including wider regional recruitment as required
Deploy standard operating procedures
Manage cleaning and Infection Control on site
Provide catering for frontline teams
Security services and queue management
Administer and dispatch completed test
We are well placed to help:
Sodexo currently manages over 150 Covid-19 test centres across the UK on behalf of the Department of Health and Social Care (DHSC).
We worked with the DHSC to design the operation of the test centres and evaluate different swab test methods.
We can set up mobile test centres with less than a day's notice.
We have helped trial rapid lateral flow tests in different locations in England.
A dedicated seven-day-a-week recruitment centre has been set up to ensure that all our test centres are fully staffed at all times. Our 9,000+ strong national test centre workforce is equivalent to the size of four major police forces.
All staff receive comprehensive health, safety and customer service training.
As one of the government's strategic suppliers, we provided catering and security services for the first British coronavirus evacuees returning from China in January 2020.
In the UK, we have provided cleaning, catering, infection control, facilities management services for acute NHS hospitals for many years.
Helping you - certainty of delivery for your local population
We are taking all the experience we have developed since March 2020 to support local authorities and corporate organisations develop best in class testing programmes for their populations and teams.
We can offer a range of at scale support and managed services at speed, with all the assurance you need.
Set up and full management of multi-lane drive through test centres to walk in and mobile facilities
NHS Test and Trace health and safety and operating procedures underpinned our approach, which we have worked to develop in partnership since the start of the pandemic.
Security, clinical waste management and ongoing maintenance requirements can be managed by our at scale and experienced team.
We are experts in infection control – so we will ensure all teams and customers are safe and protected within the test centres.
Read how we're supporting community testing through client testimonials below.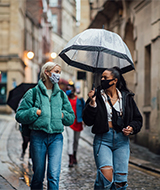 7,000 tests a day help to protect Greenwich from Covid-19
"The demands for testing are constantly changing and, having engaged with Sodexo, we are able to deliver an agile testing programme. Sodexo are an important partner to help supply these services."
David Pinson, Head of Commissioning and Health Protection, Public Health Lead for Children and Young People, Public Health & Well Being - Read More
Mobile testing options to support rural communities in Cheshire East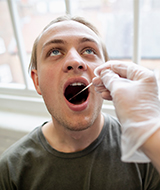 "Sodexo's mobile dynamic response units provided us with the exact product we needed to achieve our aims and having seen them operate PCR testing sites we were confident they would deliver the best service possible."
Lucie Robinson, Programme Manager & People Directorate - Read More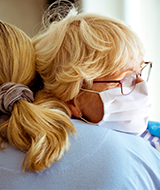 Helping Shropshire Council to keep those who can't work from home safe
"The contract was up and running in two weeks from initial discussion and Sodexo have provided an additional operational arm to our program that is cost effective and does not draw down on our already stretched available resource."
Ken Stringer, Public Health Programme Commissioning Lead - Read More
Asymptomatic Covid-19 Testing
Regular asymptomatic Covid-19 testing will become an important part of managing everyone's health and wellbeing.
By creating an onsite testing facility on your premises - from office to factory, school or university - you'll be able to offer a safer, more controlled environment, proactively tackling the spread of infection within your communities. Find out more about our onsite testing services for corporate organisations, universities and schools.
Promoting a health and safety culture
The safety of people visiting test centres is paramount. All staff receive online health and safety training before arriving on site. Once on site they receive core skills training and complete Sodexo's Infection Control Passport.
Sodexo has extensive experience in the UK and overseas providing services for hospitals and other health facilities. As well as supporting major events including the 2019 Rugby World Cup in Japan, and annual events such as Royal Ascot and the Chelsea Flower Show. This unique combination of experience has contributed to the reliability and safety of its test centre programme.
Previous slide
Next slide