Schools have had it tough throughout the pandemic. Unprecedented challenges and forced closures have emphasised a need to do things differently, particularly when it comes to school meal provision. Efficiency is vital, and while most improvements of the 21st century have been slow and gradual, schools and their providers now need to mobilise quickly. Read the article to find out how.
We must continually improve the way in which school food is produced, collected and consumed in order to expand capacity and enhance the experience. Delivering healthy meals quickly, cost effectively and with minimal waste is the current driver of change - fuelled by the knowledge that a school meal is often the most important meal of a child's day.
Sodexo is taking new approaches to food provision in schools, with insight from trials informing the rollout of new formats and technology. We've seen how innovations in school catering can make a difference, and we believe there are three ways all schools can improve the efficiency of their operations.
.
Report: Feeding the Future - The Five Fundamentals that Should Matter Most
Better food can create a brighter future for children and young people. As they become increasingly aware of issues such as nutrition, climate change and food waste, school leaders have an opportunity to help establish lifelong healthy habits.
In this report, we examine the five fundamentals we believe should matter most to state school leaders in the health, nutrition and provision of school meals.
1. Adopt food service technology for less waiting and more control
Speed of service at mealtimes is one of the key challenges for many schools. This is especially the case for those with a large population, yet limited space and resources. Anything that can be done to eradicate long queues at mealtimes delivers numerous benefits, including greater participation and uptake.
There is pressure to shorten mealtimes and minimise impact on effective curriculum delivery. Yet children need this break to rest and refuel, so they perform at their best during the second half of their day. Good nutrition delivers better performance.
Technology is starting to play a more important role.
Deploying easy-to-use, web-based pre-ordering systems reduces the need to queue and wait for food to be packaged, as each meal is made to order for each child.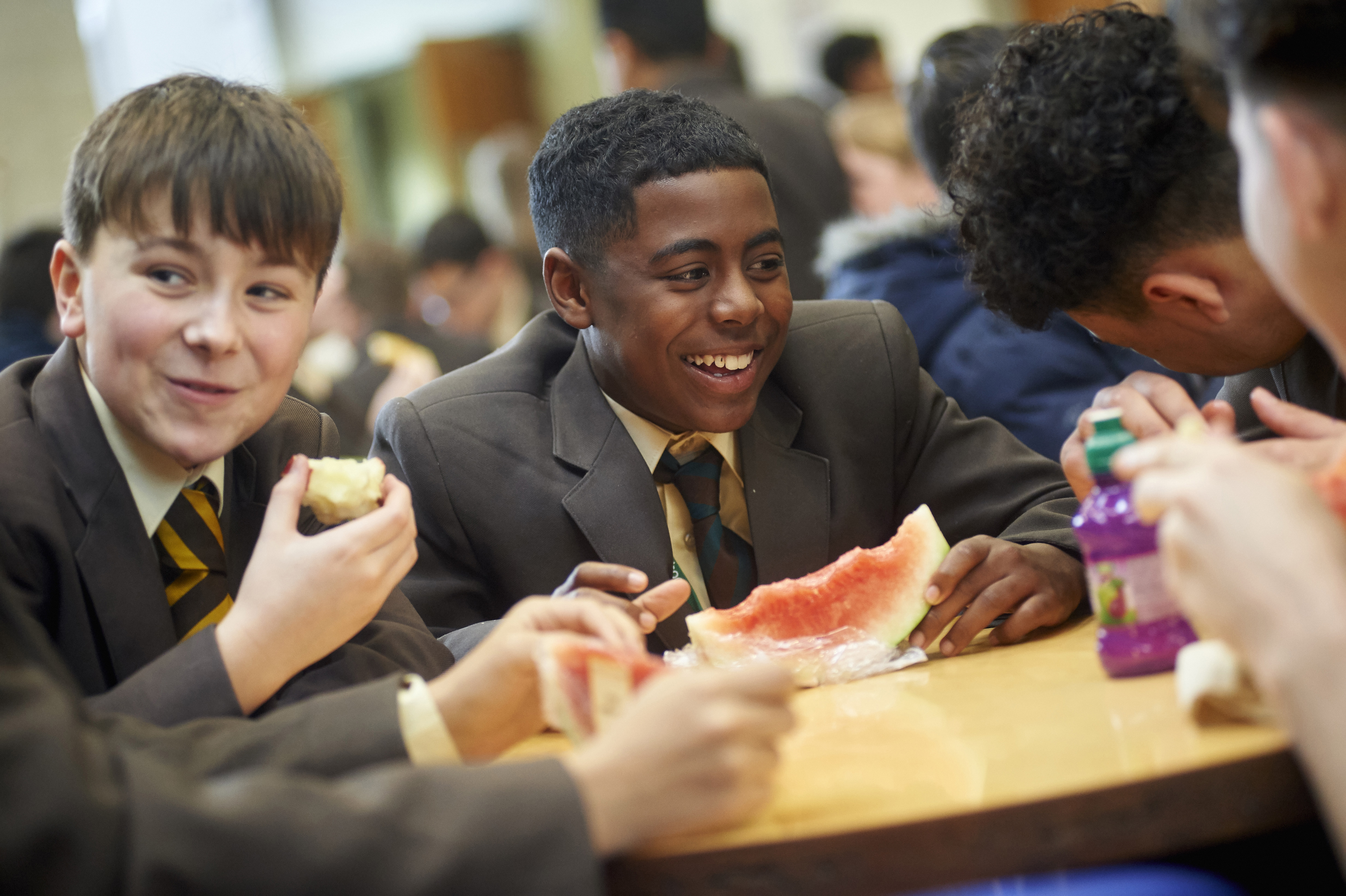 Sodexo's School Food United system allows busy parents and carers to log on and pay for meals in advance anytime until 4pm the day before the meal is taken. This ease of ordering has contributed to sales increases of up to 22% at schools that have adopted the online system.
Effective school catering software also ensures that the kitchen only makes what has been selected, which minimises waste and optimises the budget while ensuring every child gets their preferred choice.
In other food service sectors, such as hospitality and universities, we are starting to see the introduction of app-based solutions, which incorporate useful functionality such as scan and go, pre-ordering and prepayment. We are likely to see this arrive in secondary schools soon.
With the vast majority of teenagers now owning a smartphone, such apps will enable them to access pre-packaged meals at the touch of a button, and provide them with relevant information to influence their choices and behaviours.
2. Incorporate new formats in the school food plan
New school food delivery models enable pupils to collect their meals quickly and from different locations. This also facilitates social distancing and helps pupils make the most of their lunchtime break.
Pre-packaged food available to 'grab & go' is becoming more common, especially in secondary schools. It's quicker for the kitchen, while being more flexible for the children. Collection points can be sited across the school, allowing pupils to collect their lunches at an allotted time and eat their food at different points around the building, or outside.
At Sodexo we are exploring a number of these innovative school catering delivery formats. From outdoor 'street food' style trucks positioned in the school grounds, to mobile carts, food lockers and the use of 'scan & go' technology.
Such initiatives help remove the temptation to visit local shops and takeaways where teenagers are more likely to pick up less healthy options.
However, there isn't a one-size-fits-all approach to food provision in schools. Each one is different, with space and resources unique to them. And in some instances, the school food focus is different altogether.
A study conducted over multiple decades by UCL's Institute of Education found that in 1995, 30% of schools reported lunch breaks of less than 55 minutes. Now, that figure has risen to 82%, while a quarter of secondary schools reported lunchtimes of 35 minutes or less.
Children barely have enough time to queue up and to eat their lunch, let alone have time for other things like socialising, physical exercise, or exploring self-chosen activities."
Dr Ed Baines, Senior Lecturer in Psychology of Education, UCL Institute of Education

The 'family dining model', where everyone sits down to eat lunch together at the same time, is one way to counteract this trend. Scheduled separate sittings facilitate larger pupil numbers, and the fact each sitting lasts for a specific time means children are less likely to rush their food.
They eat more and potentially waste less.
3. Expand the school food menu to expand children's tastes
With greater use of data and technology, comes better insight into the needs and behaviours of pupils when it comes to food. It also provides new channels of communication and influence over making healthier choices and trying new things.
James Mundy, Food and Retail Transformation Director for Sodexo Schools and Universities, notes that pupils are more receptive than ever to new options. "The food served in UK schools has come a long way in recent years," he says. "Health, convenience, and social media have all played a significant role in influencing the types of foods young people want to try and their relationship with food."
Expanding the menu to reflect trends and offer healthier and more sustainable options is also a key aspect of ongoing innovation in school catering. With a more thoughtful approach to menu development and a better understanding of what children like, we can tailor the appeal of the same core dish for different age groups.
The increasingly popular chicken katsu curry, for example, has been adapted to meet the needs of different age groups in Sodexo's school food service. We know Key Stage 1 children are not keen on sauces, so we separated it from the chicken and served it as a dip on the side. Key stage 2 children were happy with the sauce, so it was served altogether as such a dish normally would be.
And secondary school children preferred the meal as a takeaway, so it was served in a handy recyclable container, with extra dressing on the top. The same dish, made with the same ingredients for the same cost, but served in three different ways.
Offering taster pots for new dishes is another good way to get children to try new things without the risk of not liking them and going hungry. Likewise, the development of 'fakeaways' (healthy versions of popular takeaway dishes), inspired by what we see trending on social media, encourages better choices without compromising on flavour.
Discover the five fundamentals
Better food can create a brighter future for children and young people. As they become increasingly aware of issues such as nutrition, climate change and food waste, school leaders have an opportunity to help establish lifelong healthy habits.
Providing a varied, balanced and nutrient-dense diet is one of five fundamentals that should matter most to school leaders in the health, nutrition and provision of school meals.
Download the full report below to discover more.
Learn more about Sodexo's catering services for schools.