School catering is a core Sodexo service but did you know it has its own in-house team that can radically transform catering environments, designing and building spaces for clients that are bespoke to the diners? Sodexo Programme Manager Adrian Stuttard explains how it's working in a current school refurbishment.
When Adrian Stuttard gets involved in any property project in his role as Programme Manager for Sodexo he always sets exactly the same goal – and that's to "find the right answer."
Adrian, a qualified surveyor with 20 years' experience of delivering capital works projects, is now part of an in-house team who work both at new business development stage and within existing contracts to project manage improvements to property infrastructure for clients. The group of 16 sits within a wider 100-strong professional team of hard FM specialists.
Whether it's building an extension, replacing a roof, upgrading a fire alarm system or refurbishing a restaurant, Adrian is able to connect with an internal network of subject matter experts, including architects, quantity surveyors and sustainability managers, who work together to design and deliver a bespoke solution. It's a service that every client can access – an efficient, responsive and cost-effective alternative to using third-party contractors.
"It's our business to take the aspirational vision of our clients and deliver an affordable value-driven solution that works – operationally, technically, commercially, aesthetically and sustainably," says Adrian. "We can design something that looks amazing but clients need to have 100% confidence that it can work. One size never fits all. Every solution will be different."
Bringing a vision to life
Recently he's been on site at Oundle School, one of Britain's leading co-educational boarding and day schools, where Independents by Sodexo began a new five-year catering contract on 1 January. The contract looked for a significant investment and refurbishment programme to upgrade and modernise the school catering infrastructure.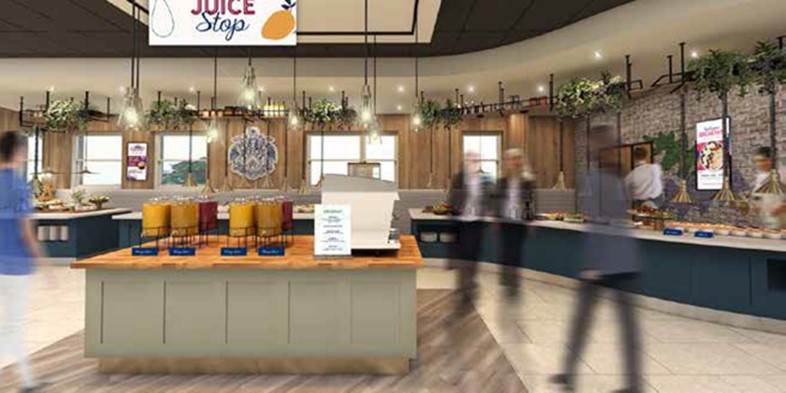 The head of the Oundle School, Sarah Kerr-Dineen, said she was "excited by (Sodexo's) vision for all aspects of the catering operation in the school", and how "they demonstrated a genuine understanding of how young people engage with meal choices."
This is where Adrian feels his team gains their strength, in being able to connect with other Sodexo experts and ask all the necessary questions to collectively come up with that 'right answer'.
"At Oundle School we're working alongside our Independents by Sodexo team who provide all the insights into pupil preferences – the environments, the food trends, the meal choices. We can then use that knowledge and input from the operational catering team working at the school itself, who will know better than anyone whether a design will work in day to day practice. It is a really seamless approach where all parties bring their expertise to the project."
Sodexo can act as consultants if clients want to design and deliver their own solutions, but with Oundle School's refurbishment the Professional Services team are project managing the process end-to-end, bringing in-house designers, architects and quantity surveyors to the planning stage and using an extensive supply chain of trusted suppliers to build.
Pupils will be able to enjoy a modernised dining experience that appeals by injecting colour and texture into the design, improving the flow and reducing queues and offering contemporary meal choices. "It is a place where we like to think pupils will be happy to be," says Adrian.
Future-proofing school catering
Ensuring the space is fit for the future and helps to boost young people's brain power is always front of mind in any design. "Traditional dining halls get used for a few hours a day, it's often a significant area that isn't fulfilling its potential," says Adrian. "How can we help schools to use that space more flexibly in the future?"
Adrian is also passionate about communicating the value of long-term investment and the sustainability agenda. "I always encourage clients to look to the future and not get left behind.
"So at Oundle for example we are moving to an all-electric kitchen. This supports the school's green vision, and because electric is the only energy source that can be obtained from renewable sources we are able to say the kitchen has a zero carbon impact. Electric kitchens also create a much more pleasant environment for our catering teams and we remove the associated compliance issue with traditional gas kitchens.
"While the refurbishment is a cosmetic upgrade, it's an operational and technical one too," says Adrian. "We are creating a space that works for the catering team, is enticing for the pupils, as well as being a showcase for the school that saves on running costs and is future fit."
Sodexo's proposal for Oundle School involves a radical reorganisation of the catering space including combining two existing kitchens into one, focussing on the customer journey, reducing queues and creating a space that promotes wellbeing.