The Five Fundamentals in School Meals
As children become increasingly aware of issues such as nutrition, climate change and food waste, school leaders have an opportunity to help establish lifelong healthy habits.
In this report, we examine the five fundamentals we believe should matter most to state school leaders in the health, nutrition and provision of school meals.
Climate change is one of the modern world's most pressing issues. It affects everyone, but none more so than today's children and teens, whose future depends on it. They are acutely aware of the problems the world is facing, and increasingly eager to improve sustainability in schools as part of the solution. So, how can we improve the sustainability of modern school meals?
Generation Z - those born since 1997 - are the sustainability generation. Although there has been a push towards a more environmentally friendly way of life for many years, the global pandemic throughout 2020/21 has sent this into overdrive. And Gen Z's voice is growing increasingly louder.
A global survey by campaign group Avaaz and the University of Bath found 59% of children and young people are very or extremely worried about climate change. In the UK, 80% agreed that people have failed to care for the planet.
These anxieties are deeply concerning, but school leaders have an opportunity to help children and young people bring about change. Many have already implemented initiatives to help pupils understand how they can be more sustainable at school, from recycling and reusing materials to taking action on protecting local marine and rural wildlife.
And at the heart of this renewed emphasis is a drive to improve food sustainability in schools, prompting the young to be more open and receptive to alternative choices.
Evolving school food through awareness, innovation and education
By working in partnership with forward thinking food providers, schools can have a measurable impact on reducing their carbon footprint. From switching to more sustainable ingredients to sourcing more ingredients locally, there are multiple aspects to consider.
Incremental changes are required, but the combined impact of thousands of children being introduced to more sustainable school meals will be significant. It will influence their knowledge, awareness and choices outside of school and throughout their future years.
Reducing the focus on meat and fish and gradually exposing pupils to plant-based and protein-rich ingredients is an effective way to offer healthier and more sustainable catering. At the same time, it's essential that school food is appealing, varied and cost-effective to produce.
"We know that Generation Z are increasingly turning towards vegan and plant-based diets to improve their health and reduce their impact on the environment."
David Mulcahy - Food Innovation & Sustainability Director, Schools & Universities, Sodexo
Sodexo has committed to at least a third of menus being plant-based by 2025, ensuring a balance of sustainability and choice. This will be supported by initiatives beyond the kitchen door, such as developing teacher toolkits in conjunction with The British Nutrition Foundation (BNF), and a pledge system to promote awareness among pupils.
We're proactively building the awareness and knowledge of all our school chefs, so that this shift is operationalised, not just a theoretical promise.
But new menus and staff training alone are not enough. We also need to educate teachers, parents and pupils about the more sustainable choices they can make with our help. For example, we often run taster sessions where the top meat-based dishes are made from 100% plants, grains or vegetables. In blind taste tests, the majority preferred the new version or didn't notice the difference.
Encouraging kids to try alternatives is sometimes all it takes.
Healthier, more sustainable catering in schools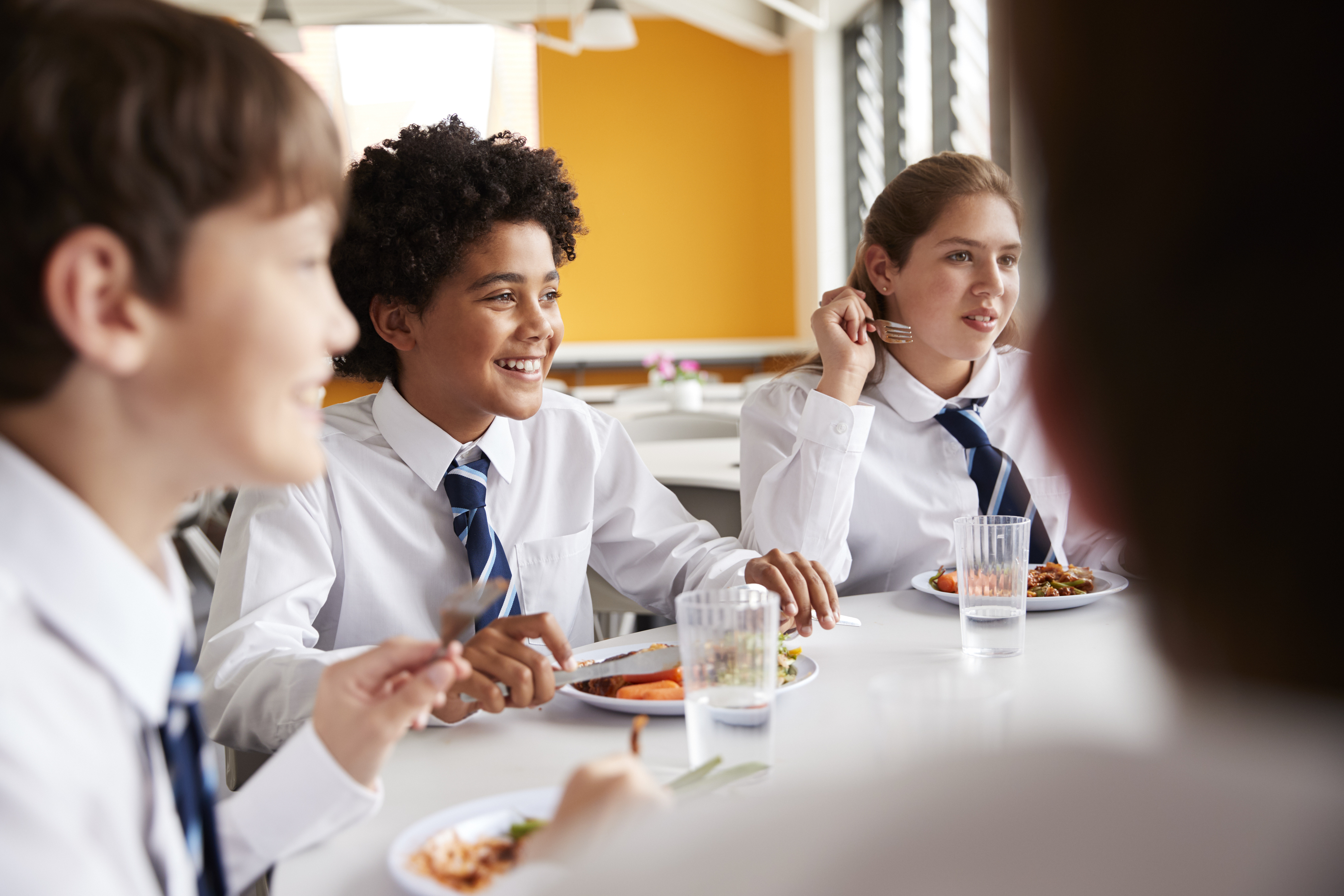 The government-backed Eatwell Guide recommends consuming a diet with less meat and higher amounts of plant-derived foods. Along with the nutritional benefits of this shift, such diets offer environmental benefits by reducing the greenhouse gas emissions and land use associated with meat production.
A review by The BNF suggested that for adult diets this could be as much as 30%.
Sodexo's approach to healthier and more sustainable catering incorporates the recommendations of the guide, along with the Future 50 Foods - a list of plant-based foods we should eat more of because they are nutritious, accessible, taste good and have a lower impact on our planet compared to animal-based foods.
We partnered with Knorr, WWF and other leaders in nutrition and sustainability to develop the list in response to concerns over current practices for growing and producing food. There is an over reliance on a small range of crops and the world depends heavily on resource-intensive animal-based foods, with 75% of the current global food supply coming from just 12 plant and 5 animal species.
But embracing the Future 50 list can make a significant difference to food sustainability in schools. Our trials featuring popular dishes remade with low environmental impact have been well received, proving we don't have to sacrifice taste or appeal for sustainable school meals.
A proactive reduction in school food waste
Beyond the ingredients used in the school kitchen, children can be empowered to make a difference by learning about how we reduce food waste in school dining rooms.
Around a third of all food produced globally is wasted, meaning vast amounts of unnecessary carbon emissions. New solutions to this huge problem are urgently needed, whether that be through technology, or by changing the way we do things.
For example, in 2019 Sodexo launched WasteWatch, powered by Leanpath as part of a commitment to cutting our food waste in half by 2025. This computerised food waste prevention system has been shown to reduce waste by up to 50%, even in sites where it was already low. It enables our teams to easily capture food waste data, providing the insight to inform operational and behavioural changes to help end avoidable food waste.
"We need to accelerate the fight against food waste for the sake of humanity and in light of hunger worldwide. The rapid deployment of WasteWatch powered by Leanpath is our rally cry across Sodexo to do our part, while engaging with our clients and the consumers we serve."
Claire Atkins-Morris - Director of Corporate Responsibility at Sodexo
We also have an ongoing commitment to the Wasteful to Tasteful initiative, because although the quality of ingredients matters, the cosmetic imperfections do not. We now use 'wonky veg' in our school meals which would not have made it onto supermarket shelves, saving 15 tonnes of perfectly fine fruit and vegetables from landfills in the first two years alone.
Reducing carbon footprint is a top priority when it comes to sourcing as well, so UK suppliers are at the forefront and seasonal produce is used where feasible. At every stage of the supply chain, Sodexo's approved food producers are held to the strict quality and sustainability guidelines administered by bodies like LEAF and the Soil Association.
Other standards are also in place, such as a ban on all unnecessary additives and a requirement to use high-grade produce.
Shaping the future of sustainable school meals
The search for ways to create better food sustainability in schools is ongoing, with potentially groundbreaking approaches on the horizon. This includes the use of vertical farms which could bring crop-farming to UK cities, and underground farms to produce ingredients that were traditionally grown overseas and needed to be shipped or flown in.
These and other innovations will help shape the future of sustainable school meals, and ensure they appeal to children and young people who are increasingly better informed, and more concerned about their impact on the environment than ever before.
Download our report, Feeding the Future, to discover more about sustainable food and its role as one of the five fundamentals that matter most to school leaders in the provision of healthy, nutritious meals.
Find out more about our School Catering & Food Services.